The penultimate chapter of our countdown features drivers 20 to 11, including race-winners from GP2, Formula Renault 3.5, GP3 and Formula 3 as well as this year's top two in Formula Renault 2.0
Earlier parts: 50-41, 40-31, 30-21
20. Lance Stroll
Up 2
Canada ? age 17
Fifth in FIA F3 European Championship, Toyota Racing Series champion
Stroll landed himself in hot water in the middle of his rookie Formula 3 campaign with some erratic and dangerous driving, but produced an immediate and impressive recovery to end the year on a high.
He had begun 2015 by adding the Toyota Racing Series crown to the Italian Formula 4 title he won in his rookie single-seater year ? a noteworthy achievement in itself.
The maturity and consistency he showed in New Zealand made his well-publicised mid-season F3 antics ? causing high-profile shunts at Monza and Spa ? all the more surprising.
He quickly changed his approach, which not only kept him out of trouble but also improved his competitiveness. A podium breakthrough in race 22 at Spielberg was followed by another five, culminating in a win at the final round that was arguably fair reward, even if it was rather gifted to him.
Post-season he took a big step to an inevitable future in Formula 1 by landing a Williams role after five years with Ferrari. The coming years ? starting with an F3 title bid in 2016 ? will determine how good he?ll be when he eventually makes it.
19. George Russell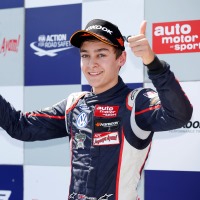 Up 5
United Kingdom ? age 17
Sixth in FIA F3 European Championship
Russell may have ultimately been outscored by Stroll in their rookie F3 seasons, but there was a large contrast between the two.
Most impressive, and the decisive factor in ranking him ahead, was how incident-free Russell was for a driver of his youth and inexperience. It wasn?t until he was hit in the final race that he failed to finish one.
His season was remarkably clean up to that point given that he usually qualified further back than he should have done, and was always charging forward. Given that he was immediately on the pace at Silverstone ? quick enough to win ? qualifying was definitely his downfall.
There were, however, signs of what he could do when Carlin as a team was more competitive in that regard, at the Norisring and at the Nurburgring, where Russell lost three front-row starts to engine penalties.
Signing with new team Hitech for 2016 is seen as a risk, but it?s a calculated one that could enable him to fight Stroll for the championship next year.
18. Nyck de Vries
Down 7
Netherlands ? age 20
Third in Formula Renault 3.5
De Vries couldn?t quite repeat the heights of past Eurocup Formula Renault 2.0 champions in their rookie 3.5 seasons and finish in the top two, but to be best of the rest behind Oliver Rowland and Matthieu Vaxiviere was still a good effort.
He was a polesitter and almost a race winner on his debut weekend at Aragon, but blew his chance in the final sector of the race under pressure from Vaxiviere.
He toughened up as the year went on though, and was there to benefit when the series returned to Spain and Rowland went off on the first lap of the final race.
Inbetween, DAMS surprisingly struggled with its two rookies but de Vries did well to outpace and outscore team-mate Dean Stoneman.
His car career might not have quite matched his illustrious karting career yet, but the strong end to his season means de Vries deserves backing for 2016. McLaren may struggle to justify it, however.
17. Alex Lynn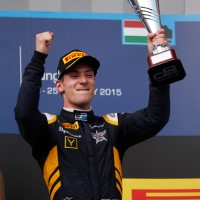 Down 11
United Kingdom ? age 22
Sixth in GP2
Lynn?s decision to leave Red Bull and join former stablemate Pierre Gasly at DAMS in GP2 was a bold one, but on the whole it was last year?s GP3 champion that was the star.
He was the quicker of the two out of the box, won in just his second weekend in the Barcelona sprint and later headed a one-two in the Hungary feature from pole.
The pendulum of pace swung Gasly?s way once he started racing on tracks for a second time in GP2, but Lynn also blew chances at Monza (while fighting for the lead) and Sochi (while leading).
Those disappointing mistakes were surprising too from a driver who had now proven outright pace to add to an existing reputation of maturity.
Overall though, Lynn was the one to adapt quicker and produce some standout drives, and was possibly the most impressive GP3 graduate to-date once the strong level of competition is factored in.
If he can reverse the DAMS race pace slump and cut out his own mistakes, he can succeed Vandoorne as a second-year champion.
16.? Louis Deletraz
New entry
Switzerland ? age 18
Second in Eurocup Formula Renault 2.0, NEC champion
For much of the year, Deletraz was unexpectedly dominant in Formula Renault 2.0, though a late-season decline meant the Eurocup crown slipped through his fingers.
He might have been the NEC runner-up last year and already have two years in FR2.0 under his belt, but Deletraz still took a big step forward to produce his early-season form.
In the Eurocup, he won the first two races at Aragon and added a third in Hungary to lead by 34 points over the summer. That form couldn?t be repeated in the four autumn rounds though, with a single podium from 10 races.
He was always in control in the NEC, winning nine times and at every track bar one, sealing the crown in style with a hat-trick at the Hockenheim finale.
A step up to 3.5-litre level was long on the horizon after making his debut in Austria on a weekend off, and he?s since secured a place at top team Fortec. Testing?s looked unspectacular, but he?s proven this year that given time he can be rapid.
15. Jack Aitken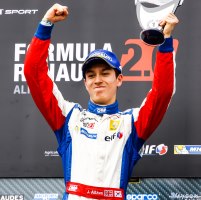 New entry
United Kingdom ? age 20
Eurocup Formula Renault 2.0 champion, Alps champion
Aitken?s Eurocup season was pretty much opposite to Deletraz?s, starting badly but ending up as champion after a spate of wins.
So challenging was his start that even after winning at the Hungaroring, he was only eighth and 62 points adrift of Deletraz going into the summer break.
Aitken then suffered a summer break of a different kind – fractured vertebrae in a Monza Alps crash – but made a triumphant return just two weeks later at Misano, and then again when the Eurocup resumed at Silverstone. A further win at the Nurburgring helped him to cut his deficit to seven points ahead of the Jerez decider.
A week after a maximum score at the same circuit secured him the Alps crown, Aitken nailed Saturday qualifying and duly won the first two races to give him a points lead that stood even through a non-scoring Sunday.
It was far from a ?complete? season, but Aitken was masterful when it counted. After decent test showings in Formula 3.5 V8 and GP3 he takes momentum into 2016, whichever route he takes.
14. Jake Dennis
Up 13
United Kingdom ? age 20
Third in FIA F3 European Championship
When Dennis switched from Carlin to Prema last November, he looked like a title favourite, but after two more-experienced drivers made unexpected returns, third place was pretty respectable.
Dennis was always playing catch-up to Felix Rosenqvist, Antonio Giovinazzi and Charles Leclerc after an unsatisfactory start to the season, but notched up a fine six wins thereafter, getting the better of team-mate Rosenqvist a number of times in the process.
A double at Pau (that could have been a hat-trick had he not incurred damage), podiums at Monza and two more wins at Spa put him second in the points and ahead of Giovinazzi and Rosenqvist, but a nightmare non-scoring Norisring event undid all that hard work.
Seven blanks in total definitely cost Dennis in the title race, but they were far from all his fault. Ultimately, he showed he was the quickest around on his day, even if he couldn?t match the consistency of more seasoned campaigners.
He should be at the sharp end again in GP3 with Arden next year, and he?s also got the chance to shine in LMP2 outings with Jota.
13. Marvin Kirchhofer
Up 1
Germany ? age 21
Third in GP3
Given that Kirchhofer won five times in 2015, it?s quite hard to fathom how he didn?t even come close to improving upon his third place in the GP3 standings from last year.
When you see that he raised his points tally from 161 to 200 ? just seven behind Lynn?s 2014 mark ? it makes a bit more sense.
In Esteban Ocon and Luca Ghiotto, he was up against incredible opposition. He didn?t have Ghiotto's outrageous combination of pace and tyre-saving ability, nor the ridiculous, metronomic consistency of Ocon.
Should he have been closer to a pair of series newcomers? Yes. But slight flaws were enough to lose ground he couldn?t claw back. He wasn?t as good in qualifying, couldn?t usually make his tyres last as long and struggled to carve his way through from down the order.
That all contributed to his points deficit, but he was still part of a top-four that dominated a decent field. Another third place has hurt the momentum Kirchhofer built with his German titles, but he's still a great driver.
12. Emil Bernstorff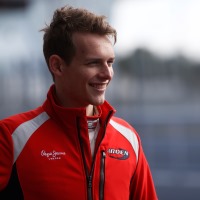 Up 21
United Kingdom ? age 22
Fourth in GP3
After Bernstorff spent 2014 in the shadows of team-mate Lynn, a move away from champions Carlin to Arden didn?t seem to be out of choice, but it worked out rather well.
He had superb race pace that, once points for poles are discounted, made him the highest scorer in main races, ahead of Ocon and Ghiotto.
Back-to-back race-one wins at classic circuits Spa and Monza were the highlights of Bernstorff?s season, but fell amidst a costly run of three consecutive reverse-grid race retirements ? the Anglo-Dane hit innocently on each occasion.
Given that, there?s no doubt he deserved more points than he got, even though he was in the top six in every race he did finish. His qualifying form wasn?t strong, but his race pace so good it didn?t really matter.
Like Kirchhofer, funding constraints threaten Bernstorff?s chances of taking the next step. He did do a GP2 test with Arden, and he's the sort who could boost its lacklustre form in the series.
11. Alexander Rossi
Re-entry (30th in ?13)
United States ? age 24
Second in GP2
Rossi might not have been able to keep up with Stoffel Vandoorne in the GP2 title race, but still put in a strong season that proved his quality and opened the door for a five-race Formula 1 cameo.
After calling time last year on a challenging stint with the Caterham group and its often-uncompetitive junior teams, he had almost given up on the F1 dream but a seat with Racing Engineering offered him a great platform.
Rossi was the closest challenger to Vandoorne during the early rounds, but it was others that broke the Belgian?s winning streak and were threatening Rossi?s second place going into the summer.
The break was filled by talk that the new American F1 team didn?t rate Rossi highly enough, but he responded perfectly by a sprint race win at Spa. That was followed promptly by a Monza feature race win, and then his Manor chance. He won again on his GP2 return at Sochi.
Having demonstrated that he deserved an F1 opportunity with his GP2 results, Rossi also performed admirably for Manor. He merits the gig on a full-time basis next year.